As you all know, women are a minority in leading positions at the Faculty of physics and also at the university of vienna. At the faculty of physics the situation is especially drastic, with 70% of senior lecturer positions and over 40% of tenure track positions being held by a woman, but only 10,5% of professorships. [1]
The first step in counteracting this problem is to raise awareness. Therefore we are happy to invite you the online conference 'Celebrating Women at the Faculty of Physics' at the University of Vienna! The event will be held on the 11th of February, the International Day of Women and Girls in Science [2], starting at 15:00. This is not only an opportunity to discuss the topic of gender in higher educational institutions, but also to celebrate the women in physics today. Here a short overview over the schedule:
 keynote talks by Paola Ayala, Ulrike Felt and Francesca Nerattini
scientific flash talks by female postdocs working in physics: Harriet Åhlgren, Veronika Baumann, Karin Hain, Natasa Adzic, Mateja Gosenca, Lisa Glaser, Agnieszka Straus
a panel discussion with the keynote speakers and Q&A from the audience
A more detailed program and the link[3] to the conference can be found on the event page [4].
We're looking forward to see you there! Please spread the word!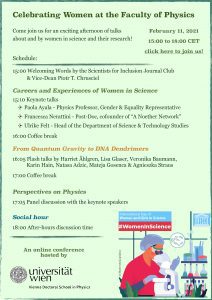 [1]Gender im Fokus 6 https://www.univie.ac.at/fileadmin/user_upload/startseite/Dokumente/Gender_im_Fokus_6_web.pdf
[2] https://www.un.org/en/observances/women-and-girls-in-science-day
[3]https://zoom.us/j/97590771123?pwd=ODFtZkQ5bm9HZ2Y0b1A1VjlJd1Fhdz09
[4] https://vds-physics.univie.ac.at/your-benefits/student-meetings/journal-clubs-and-societies/women-in-physics/